Ducks Unlimited luncheon highlights future of Great Lakes conservation
LANSING, Michigan – Feb. 9, 2022 – More than 150 Michigan legislators, staff members and conservation partners gathered Wednesday to celebrate bi-partisan support for protecting Great Lakes wetland habitats.
The luncheon highlighted public and private conservation efforts across Michigan, and the legislators who support policies and funding necessary to keep wetlands healthy.
"Michigan's coastal and inland wetlands are crucial to the livelihood of Michigan residents as well as wildlife," said Kali Rush, Ducks Unlimited regional biologist. "Our legislative leaders know the state's wetlands clean our Great Lakes, protect against flooding and keep our shorelines intact."
The state has lost more than 50% of its historical wetlands to human development. Ducks Unlimited, the State of Michigan, other nonprofit conservation organizations, as well as private landowners and corporations blend resources to conserve thousands of acres of wetlands each year.
These habitat victories rely on strong wetland protection laws and funding sources to complete the work. During the luncheon, Ducks Unlimited recognized its co-legislators of the year, State Reps. John Cherry and Bradley Slagh.
"John and Bradly are true wetlands champions in Lansing," said Zach Hartman, Ducks Unlimited's Chief Policy Officer. "Their commitment will keep our marshes, swamps and lakes pristine for us today and for generations of Michiganders who rely on clean water."
The event on Wednesday discussed the importance of two wetlands policy efforts: House Bill 5393, co-sponsored by Cherry and Slagh, which would legalize online raffles as a revenue source for nonprofit conservation organizations like Ducks Unlimited, and restoration funding for the Western Lake Erie Basin of Michigan, Ohio and Indiana.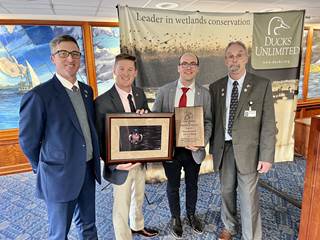 "Michigan's wetlands are an integral part of the stunning natural environment we are lucky to call home. As an avid sportsman, I know the duty that rests on our shoulders to give back to nature just as much as we take," said Rep. Cherry. "I am honored to be named 2021 Legislator of the Year, and I look forward to working with Ducks Unlimited as we continue to preserve and protect Michigan's natural resources."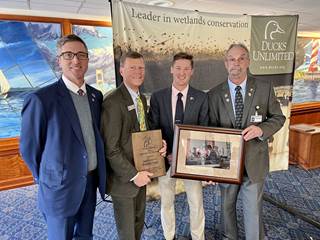 "I am pleased to work with Ducks Unlimited on legislation that will provide the ability to hold raffles on-line so they can raise funds today and in the years to come so they can continue their good works," said Rep. Slagh. "We believe that this tool will benefit not only the Ducks but many other non-profit organizations as well."
A study by Michigan Sea Grant shows the Great Lakes support more than 1.3 million jobs in numerous states that generate $82 billion in wages annually. Wetlands act as nature's kidneys, helping keep pollutants out of the water.
Ducks Unlimited has conserved more than 75,000 acres in Michigan alone over the last 30 years, from the top of the Upper Peninsula to the shores of Lake Erie. Learn more about the conservation efforts in the state. See numerous interactive videos of Michigan conservation projects at www.ducks.org/FlyDU.